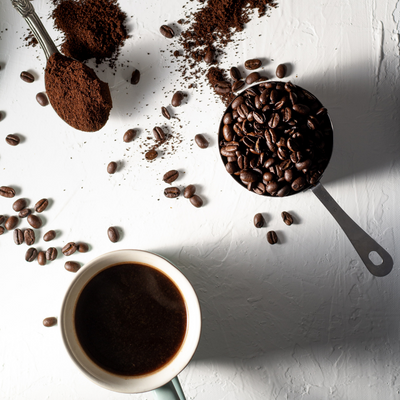 Father's Day: Coffee Gifts For Men
So you've realised that your dad loves coffee, but you have no idea where to even begin regarding the perfect coffee gift for men. Look no further because we've created the definitive guide to sort your dad out with the finest coffee setup this Father's Day. In this article, you'll find five of the best coffee gifts and why we know your dad will love them. 
The Worldly Father's Day Gift - A Coffee Selection 
The best gift for coffee lovers will always be the coffee itself. A selection of coffees from Brazil, Burundi, Yemen and Colombia in a gift box is an exciting present that becomes interactive as the flavour testing happens. The secret is in providing options according to the preferred brewing method. Be mindful of the equipment used by your dad, and you are set to go. 
Start a conversation about aromas, fruit notes, and sweetness when describing each coffee, or simply enjoy a delightful cup together. Either way, coffee is an excellent topic to bond with your father this Sunday.
The Starter Pack - Coffee Gift Sets 
Making a high-quality cup of coffee depends on the quality of the beans as much as the brewing equipment. If your dad is new to specialty coffee, a couple of simple gifts can take his experience to the next level. 
To achieve a barista-style cup of coffee at home, this is what you need:
All experts agree that switching from pre-ground coffee to grinding it yourself is the most efficient upgrade for the best coffee at home. Freshly ground coffee simply tastes better.
The

Harrio Handgrinder

is an all-time favourite for beginners and experts on the go. Its compact design and easily adjustable setting will allow you to switch your grind from coarse (french press) to fine (Moka Pot). 

For those coffee lovers that don't want to do the little workout of grinding the coffee by hand, the Wilfa Grinder is a staple in the coffee industry. With the excellent quality burrs, this grinder does it all for you. 
The coffee-making method:
French press, Moka pot, V60, Aeropress and an electric machine. There are so many methods to brew coffee at home. What to choose? Don't despair; we have a Brew Guide to help you out.
The ritualistic V60: perhaps the most popular upgrade for the coffee set up in the kitchen is the V60. Its straightforward method extracts the coffee from the grounds directly into your cup. This precise technique assures a delicious cup of coffee every time. It showcases the exciting flavours of the coffee you've chosen.
A V60 Gift Set is an excellent option for dads who appreciate details and want to feel like an expert. When you make coffee in a V60, you look like a chemist!
The hard-working Wilfa Classic+ is considered the ultimate coffee brewer; this workhorse will not let you down when making several cups of coffee a day. Choose your favourite setting, add the coffee and the water, and forget about brewing it. Get professional-tasting coffee every single time. Plus, its hot plate keeps your coffee hot for the whole morning. Make it easy for your busy dad with this

Wilfa Classic+ Gift Set

.
The Perfect Coffee Book 
The World Atlas of Coffee is a worldwide bestseller that year after year defends its title. Written by champion barista and coffee expert James Hoffman, this book is for everyone who wants to understand the world of coffee a bit better. It is an ultimate guide to coffee and contains comprehensive details on the beans and brews of over 35 countries.
An Experience Gift For Him
Thinking of presents for men can sometimes be a head-scratcher, especially for those who never ask for anything or insist that they have everything. But a gift doesn't have to be a material thing. It could also include spending time together and enjoying each other's company. Let's face it, sipping coffee and chatting are meant to be together.
If you're planning on bonding with dad through coffee, a great starting point is an interactive course. Learn about what makes coffee a "speciality", where is coffee sourced from, the characteristics of coffee in each region, and many other components of specialised coffee drinking. In this Introduction to Coffee Course, you can deepen your understanding of this fascinating world.
The monthly coffee subscription
A subscription plan could be a perfect solution to the stress of choosing coffee every time, and to avoid the possibility of running out of good coffee (the horror!). Signing up for a coffee subscription guarantees a selection of the best coffee from various regions, handpicked by our expert roasters and delivered straight to your door. 
This could be the best Father's Day coffee gift because it makes your dad's life easier, and he will get a monthly reminder that you were thinking of him on this important day.