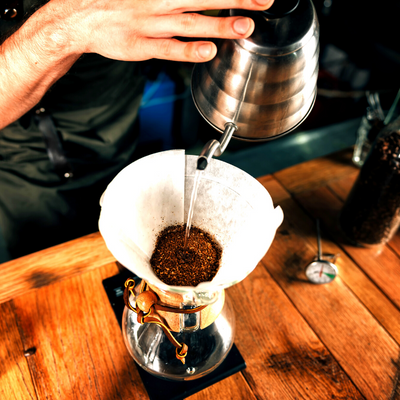 3 Benefits of Training To Be A Barista
Taking a coffee training course can be one of the most exciting and interesting things you do this year. By completing a barista course you will gain a variety of valuable skills not only limited to coffee-making but a wider range of aptitudes and knowledge that you will carry with you for years after, regardless of where your path takes you. 
Coffee training courses can open up a world of opportunities, from new experiences to meeting incredible people to possibly even visiting and working in a whole host of new and exotic locations. In this article, we shall explore the benefits of training to be a barista and why you should apply for a coffee roasting course.
1. Enhance Your Coffee Making Skills & Add To Your CV
Undergoing a barista training course is one of the best things you can do to obtain a vast range of skills whilst enhancing your overall working experience. By completing a barista training course, you will employ skills such as customer service knowledge, organisation of both your schedule and your working area as well as your cleanliness.
In some cases, you may improve your skills with handling money and above all else, you will most definitely improve your coffee-making skills. You will learn how to make amazing coffees, acquire knowledge about milk texturing and of course latte art skills.
As a bonus, you would be able to include this on your CV as well as other academic credentials such as on your LinkedIn profile for applying for future job roles - either as a barista or something completely different. The skills you will master throughout your barista training become invaluable as it sets you aside from others, particularly if you were to apply for a job as a barista in one of the best cafes in Knightsbridge, and were up against someone else who didn't have work experience as a barista either. Your coffee skills and wider work experience would give you the edge.
2. Become A World-Travelling Barista 
Learning how to be a quality barista and improving your coffee-making skills through coffee training courses can open an abundance of doors for you, for example, aeroplane doors!  Set to the skies and visit a wide range of countries. Many places around the world are always in need of top-quality baristas because let's face it, everyone loves coffee, all over the world!
Why not visit the wondrous sights of Australia as you backpack your way through exotic locations, all the while leaving your mark (or traces of latte art) at the coffee shops and cafes along the way. Perhaps you fancy visiting Paris where traditional coffee is the ultimate staple drink. Learn your way around the ultimate coffee-making skills of France and master your café au lait - a popular accompaniment to a breakfast croissant in the morning.
If you're interested in the history of coffee then a trip to Turkey is perfect for you! In Turkey, they take a different approach to coffee, and it is all about the history and science surrounding the popular beverage where other countries consider it as an artistic expression of flavour. Coffee is taken very seriously across the country, often serving coffee in vibrant, colourful mugs transporting you to an immersed, exotic foreign experience.
3. Coffee Training Is Fun & Sociable
An excellent factor to consider when applying for coffee training courses is that they can offer an abundance of fun. By experiencing barista training and education courses you have the chance to learn many of the tricks of the trade and obtain the inside knowledge, being well on your way to becoming an exceptional barista. 
You will also have many opportunities to socialise with a number of like-minded people who too share your dream of becoming a famous barista and perhaps one day working as one of the top baristas at the best coffee shop in the world or perhaps at one of the best coffee roasters in London. Barista training can also be an excellent gateway to a whole world of opportunities within the hospitality industry. 
The last thing for you to do is to choose the best coffee training course for you. 39 Steps Coffee can assist with finding the right barista training course, with the best coffee trainers available. Contact our team today using our contact page and begin your journey as a barista superstar.