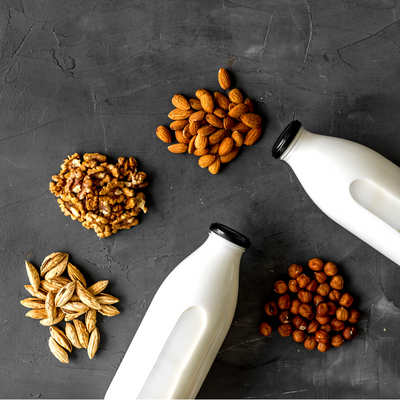 What Is The Best Milk Alternative For Coffee?
There may be a variety of reasons why you choose to use alternative milk in your coffee. It could be for moral reasons, health concerns, or just because you want to mix up your daily coffee and try a new flavour.
Have you ever walked into Sainsbury's and seen over 70 milk options and not known which one to pick? It can be intimidating to choose the right one.
So what do you do when you go to a coffee shop? The last thing you want is to pay for a coffee you don't like. 
Well, we have got you covered so that the next time you walk into your favourite coffee shop, you'll know your almond milk from your oat. We will discuss the various milk alternatives to cow's milk and which we believe is best for coffee. 
So What's Out There And Which One Is Best
To determine the best milk alternative, you must first consider what you want in your coffee. Most coffee shops will stock three of the most popular milk choices, soya, almond and oat. 
You might choose soya milk for a richer flavour over the subtle sweetness that comes from almond milk. However, you might want to try oat milk if you are looking for something similar to dairy. 
In our opinion, oat tends to be the most popular and is considered the best flavour combination with a delicious espresso. 
Why Is Oat The Best?
When heated, oat milk has a smooth, silky texture that produces rich foam, enabling you to craft gorgeous latte art. 
Since oat milk has a milder flavour than almond milk, the coffee isn't overpowered, and the specialty coffee that's been expertly extracted by your barista can shine through. 
We have found that when the barista steams soya milk, getting it right quickly is challenging and can often curdle when mixed with coffee. This will completely change the texture and taste of the coffee. Some people enjoy their coffee this way, but with oat, you'll have a more consistent outcome and experience. 
Almond is also fantastic; however, it adds extra flavour to your coffee, which sometimes takes away from the coffee you are being served. 
If you enjoy tasting the different origins of coffee, this could be a deciding factor for you. 
Which Brand Of Oat Milk Is Best?
Due to the boom in milk alternatives and especially the popularity of oat milk, many different brands have popped up over the last few years. It can be fun trying them all and getting to know the differences between so many. 
Most of the time, unless making coffee at home, your favourite coffee shop will work with a specific brand. Here are two of the major players in the oat milk space:
 1. Oatly 
Oatly were one of the first brands to create oat milk, and due to their fantastic marketing team, they made it explode and become the most popular milk alternative on the planet. Their branding is seriously cool, and so is the oat milk. Just looking at their website, you'll see why they're different. 
Not only is Oatly great, but you'll find them everywhere, including all major supermarkets. Your favourite coffee shop likely uses Oatly. Be sure to check out their distinctive Barista addition if you're steaming the milk at home; this one will give you the best latte art. 
 2. Minor Figures 
Another great brand of oat milk is Minor Figures. These guys were initially baristas and set out to make the best oat milk for specialty coffee. They have spent a lot of time ensuring their oat milk is perfect for every brew and not compromising the coffee's fidelity.
They also do a barista version which is perfect for your specialty coffee. The best place to grab this milk alternative is on their website, and your coffee shop may also use it. So don't forget to ask when you're next grabbing an oat flat white! 

Come by our 39 Steps Coffee shop in Knightsbridge, and one of our expert baristas will happily guide you through which alternative milk might be best for you. If you're exploring making coffee at home with alternative kinds of milk, check out our delicious range of speciality coffee, especially our espresso range, which pairs perfectly with oat milk.