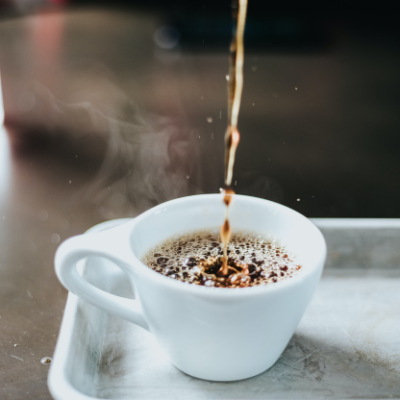 Sustainable Coffee: Why Compostable Coffee Pods Are So Important
With World Environment Day just gone, we thought it would be a great opportunity to discuss how important sustainability is when it comes to enjoying your cup of coffee. World Environment Day is a chance to give back to the planet, and remind ourselves of why we are being more environmentally conscious with our choices. In this article, we will be looking at the environmental impact of coffee, our view on the sustainability of coffee, and how we try to be kinder to the planet, one cup of coffee at a time. 
The Environmental Impact of Coffee
When you go and purchase your regular cup of coffee, whether that be on the way to work, whilst catching up with friends, or even, just as a little treat for yourself, it can rarely cross our mind what the impact our drinks are having on the environment. One of the biggest factors when it comes to coffee and its environmental footprint is the waste that comes with producing or brewing it. 
When harvesting the coffee plants, there is a cherry where the beans are housed. The coffee cherries are picked and then pulp will be removed, which is a practice where the outer pulp is removed from the cherry itself. Later, it will be fermented leaving only the coffee bean left. This can end in quite a bit of water, as the pulp, any residue matter, and parchment are leftover. 
Another way that coffee can produce waste is by brewing it. In this day and age, everyone is looking for ways to be more environmentally conscious in their purchases, right down to the coffee they drink. Many coffee-lovers will now take their own reusable cup into their favourite cafes, or the establishment itself will stock its own version of a coffee cup to go. On top of that, people are now being rewarded for bringing their own sustainable coffee cups to shops, by being offered money off their beverages if they do so. Another key discussion point around waste and coffee is the machines that are used. When using coffee machines, which many establishments do, they will use coffee pods. Typically, these are made of plastic and will be thrown out after the coffee has been extracted. 
39 Steps Coffee's View On Sustainability
As experts in the world of coffee, the team here at 39 Steps Coffee understands that hot drinks can be a ritual - a constant in many people's lives. Your local coffee shop can be the space where you catch up with loved ones, meet new people and of course, enjoy one of your favourite hot beverages. So, making more sustainable choices here at our Knightsbridge location is the best way forward. 
1. The Story Behind Our House Blend
Our House Blend comes in a compostable pod form, which you can purchase in a quantity of 10 to 100, or even get a subscription! The producer of this coffee, Inacio Carlos Urban, first arrived in Minas Gerais in 1976 with the dream of producing great coffee via sustainable and innovative practices. 
After getting his hands on his own farm in Cerrado Mineiro in 1984, Rio Brilhante has grown to become one of the biggest farms in the region, as well as one of the largest in the country; spanning a massive 2000 hectares! Not only did he keep the environment in mind, but he was also intent on striving for excellence within the coffee industry. Since Inacio planted those first trees over 30 years ago, he has used rigorous quality control methods to keep up this standard and quality. 
2. The Traceability of Our Coffee
When it comes to our coffee, we want to know everything about it. One of the key points of ensuring we know the origin of our coffee, is how we purchase it. Every bean is brought directly from where it has been grown, and we spend time building relationships with the farmers. This means that we have full traceability of each and every one of our coffees - which as well as being a more sustainable way of thinking, also allows us to generate better prices for the people who deserve it most. 
3. Compostable Coffee Pods
Our tiny compostable coffee pods are bursting with flavour and allow you to enjoy a cup of 39 Steps Coffee right from the comfort of your own home, or office for that matter! Once you've done with your coffee pod and all the goodness has been extracted, the capsules can be thrown away the same way your food waste is. Better for the environment and easier for you!