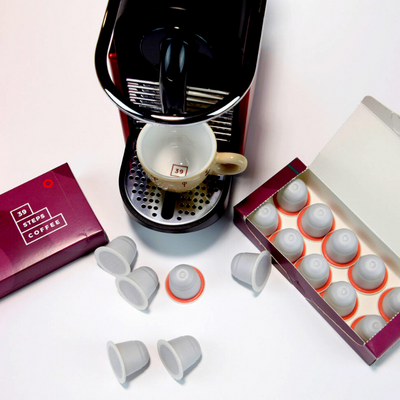 Everything You Need To Know About Our Compostable Coffee Pods
Making a speciality cup of coffee at home can take time and effort. The perfect cup requires multiple steps from measuring the coffee, grinding it to the right size for your coffee machine, and pouring the water at the right rhythm and temperature over the perfectly ground beans. 
However, now it's possible to make great-tasting speciality coffee espresso at home. You'll be able to have coffee shop quality, with the convenience of staying at home or not leaving the office. Especially now, as we find ourselves working from home a lot more. 
In this article, we'll explore not just what makes our coffee pods great but also how to brew our delicious house blend compostable pods. 

What are Compostable Coffee Pods?
Since the invention of coffee pod machines, it's been more accessible than ever to make espressos at home. Previously, you'd need to buy a costly espresso machine and a grinder and spend a lot of time figuring out how to extract the perfect coffee. 
But what is exciting about coffee pods nowadays? We can finally have specialty espresso coffee in the comfort of our own homes. No barista needed, no more too dark coffee. Coffee pods perfectly make your espresso quick and straightforward. 
The real question is about the environmental cost of this convenient solution. Is having coffee pod machines at home better for the environment? Does the ease of using a machine and brewing delicious coffee at home outweigh the fact that non-sustainable coffee pods take between 150 to 500 years to break down in landfill. 
Most coffee pods in the market are made out of non-degradable materials. A situation that makes you think twice before investing in a pod coffee machine. 
However, at 39 Steps Coffee we can say with confidence that the ease and having perfectly brewed coffee is worth it when you use our compostable pods. Our compostable coffee pods are made of renewable raw materials whose monomers (organic molecules) originate from the synthesis of microbial fermentation; therefore, they are easily decomposed and sustainable for the environment. 
Eco-Friendly Coffee Pods
At 39 Steps Coffee, we've created the perfect house blend of our speciality coffee, also known as our Mina Blend. This espresso is bursting with flavour; you'll find peach, biscuit and cacao in your espresso.
The coffee pods are made with biodegradable seal paper and biomaterials that make them 100% compostable via industrial composting. Our biocapsule material is biodegradable according to the ISO 14855 norm, which specifies the method for determining the ultimate aerobic biodegradability of plastics based on organic compounds under controlled composting conditions.  
The primary raw materials used in our pods are starch, glucose, vegetable fibres, inorganic filler materials, and biodegradable additives, mainly renewable raw materials whose monomers originate from the synthesis of microbial fermentation.

How To Use 39 Steps Compostable Coffee Pods
Using our compostable coffee pods at home or in your office is easy once you've found your favourite machine. Following the manufacturer's settings, fill it with water and pop the espresso pod into the chamber. Put your favourite mug under the spout and hit the single espresso button. That's it. Now sit back, relax and enjoy this fantastic 39 Steps coffee. 
Our coffee pods are in a compostable casing so that you can put them in your compost, and they'll biodegrade quickly. Enjoy 10% off when you subscribe; you'll never run out!
What Equipment Do You Need?
You will need a pod machine to get started as well as some compostable coffee pods. Coffee pods come in all shapes and sizes, so it's key to ensure that the machine you get caters to your favourite pods. 
At 39 Steps, we've ensured that our compostable pods are in Nespresso® compatible pods. This means they will work well in all of the Nespresso® machines, which are often the cheapest and most commonly found. 
Here are some things to look out for when selecting a machine:
1. An Easily Removable Pod Bin
This is where the coffee pods fall once you've used them, so making sure this is easy to remove and will also make cleaning a lot easier. 
2. Dual Coffee Settings
Although you'll often make a single shot using our pods, sometimes you might want to pull a longer shot, with slightly more water. This is called a Lungo shot. 
3. The Height Of The Drip Tray
You'll want to make sure you can fit your favourite mug under the spout, so you can easily make the coffee into it. 
Here are some machines we recommend:
Nespresso Vertue Next coffee Pod Machine. 

Lavazza A Modo Mio Deséa Coffee Machine.

Lavazza Jolie coffee pod machine.